Have you ever wondered what it takes to create a really rockin' marketing funnel?
I don't know about you, but "money machines" that crank out income for the owner day and night with a bare minimum of effort fascinate me. What's even more fun is building them… And an online marketing funnel can pay dividends over and over.
So today I'd like to share with you a model I've used for clients in the wealth advising niche.  Doesn't matter 'which niche' you're in though, this type of marketing funnel can work for you.
It starts with a banner ad…
The company whose campaign we're about to dissect is Fisher Investments.  We start with a banner ad in Forbes Magazine:
The image is one we can imagine someone thinking of retirement is attracted to.
Check the copy: It speaks to the conversation likely going on in his mind and heart.  It qualifies him.  It grabs attention with the juxtaposition of quick (15-Minute) with something you normally think of as laborious, while holding out a delectable promise if it's true.  Further, it points out Fisher's authority, credibility and prestige as Forbes' columnist.
Interestingly, as you'll see next, the colors in the picture match Fisher's branding colors of green and gold…
And now for the Lead Magnet…
This page sells the offer without requesting anything in return.  All it asks the reader to do is express interest.  Compare this to a squeeze page where an email and perhaps other contact information is required.  No such requirement here.  Not yet anyway…
And a pre-qualifying survey…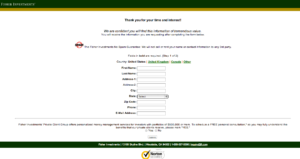 Squeeze Page 1 (above) asks for a lot in the way of contact information, another way of filtering only seriously interested prospects.  Note the real motivation to learn more was triggered on the banner, and the following "Pre-Squeeze" page spoke somewhat more to the reasoning mind.  
Now, in Squeeze Page 1, we're asked for contact information, only after making the tinier commitment of just saying "Yes, I'm interested enough to click the button…" that the previous page asked for.
The truly motivated and likely qualified prospect by this point has had his interest piqued and his rational side (how he'll explain his decision to spouse, colleagues, golf buddies) satisfied.
Simple and clear call to action and…
This marketing funnel captures key information…
…Whoops …Not quite there yet!
This thank you page presents forced survey – right at the moment the prospect is least likely to turn it down – before handing over the prize.  It's sneaky, but short and offers the reason why at top of page: It's "Step 2 of 2", after all to quell the potentially irritated rational mind.
Now finally…
Ah, there we go — The Reward… And on to an appointment!
Ah, there we go!  That's what we came for – Our report, which gosh, we'd almost forgotten about…  Plus lots more now that we've proved our interest by running the gauntlet.
In this page Fisher has multiple opportunities to sort new prospect by other interests according to which other reports he selects.
Okay, interest sated, time to grab the report and go…
But wait!  There's more…
"Hey, there's a party over on our website and you're invited!"
Not enough here on the Fulfillment Page? How about checking out the main web site?  An exit pop is an excellent opportunity to keep the momentum going and Fisher hasn't missed it.
Okay, are you exhausted just thinking about building all this?
The choice is be lazy like everyone else or git 'er done like Fisher has and enjoy the fruits of your labors immediately and for a much longer span of time.
Finally, note the number of touches here – Each with something new, 6 in all, not counting possible visit to main web site plus email autoresponder, phone call and direct mail to the more valuable prospects.
A marketing funnel like this can free you up with a more or less passive source of fresh new leads for your business.
Is Your Messaging On Target?
Get the Revenues You Deserve — Book a Free
15-Minute Sales & Marketing Consultation